November 1, 2019
The infectious smile and laugh, the upbeat and good natured personality, the sharp intellect and quick wit; Zubair Ali is well-known for all of that. But the Huntington High School senior is also a really great student, musician and vocalist and that just scratches the surface of this talented young man.
Mr. Ali is one of the top students in Huntington's Class of 2020. He is always on the go; always engaged in something worthwhile. Last summer was no different.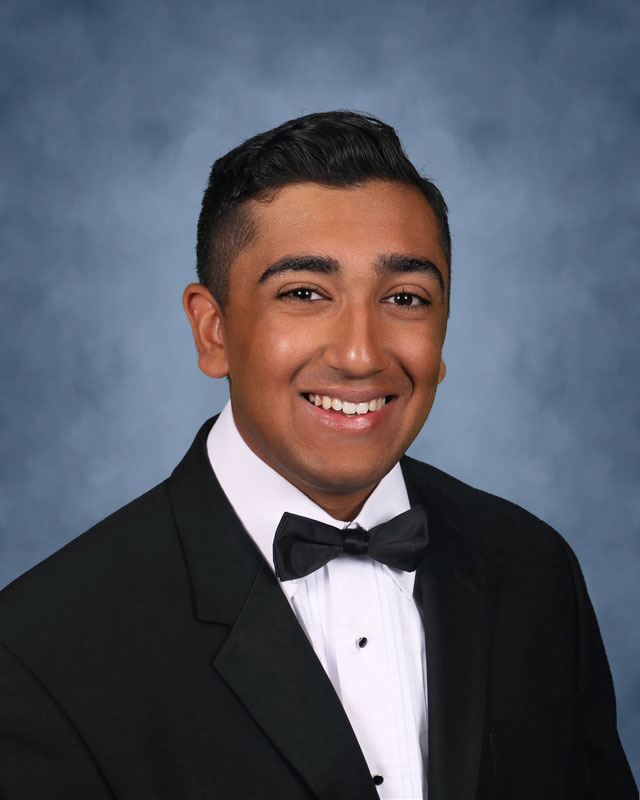 Huntington High School senior Zubair Ali
"I went to a pre-college program in Amherst College and studied political science during which I debated Hindu nationalism in India," he said. "I also studied creative writing and had my short story published and read during the program."
Mr. Ali also traveled to India for a family wedding and was able to visit and explore his family's hometown of Hyderabad. "I also went up north to Delhi and Agra to see the Taj Mahal and Amritsar to see the Golden Temple," he said.
In late August, the teenager participated in the Blue Devil marching band's grueling summer camp, Mr. Ali is one of the low brass section leaders of this year's band.
Mr. Ali's "dream college" is the University of Pennsylvania in Philadelphia. He is applying early decision there. The teenager also plans to file applications with Cornell, Columbia, Lafayette, Wesleyan, Syracuse, University of Wisconsin-Madison, University of Michigan and Colorado University-Boulder.
"I am interested in pursuing a major in South Asian Studies and possibly a career in political science or international affairs," Mr. Ali said. "I haven't fully decided yet. I may want to go into government. Serving as an ambassador is a long shot, but a dream. Maybe working as a professor of some sort."
Mr. Ali's current academic schedule includes classes in Advanced Placement Calculus AB, AP English Literature and Composition, AP Latin, AP Micro/Macro Economics, AP Human Geography, Regents Physics, band and chamber choir.
The senior began his studies at West Hills Montessori School, came to Flower Hill Primary School for second and third grade and then attended Friends Academy for fourth and fifth grade. He returned to Huntington UFSD for sixth grade and has been a mainstay in the Class of 2020 ever since.
Mr. Ali's closest friends include Natalie Ciccone, Molly Kessler, Kyra DeSalvo, Robert Jean-Gilles and Maggie Lalor "and so many more [that] I can't choose," he said.
The teenager's "all-time favorite" teachers have been Kristin Fortunato and Lauren Desiderio. "I've had Mrs. Fortunato since sixth grade and she has truly helped me in so many ways," Mr. Ali said. "She is an angel. She's taught me so much about Latin and been there for me as a teacher and I have traveled with her. Mrs. Desiderio has fostered my love for South Asia and what I what I want to do in college. Her class helped me become the person I am today. She's one of the kindest funniest and wittiest teachers I know and love so much."
Mr. Ali and his teachers have developed close relationships with each other. "Zubair is one of the most passionate and determined students I have taught," Mrs. Desiderio said. "He could always be counted on to participate. He eagerly shared his views and helped educate his classmates on topics near and dear to his heart. Zubair's personable and enthusiastic demeanor is one of his best qualities. He is a true role model and remarkable young man. I know he has a very bright future ahead of him."
The teenager is also a wonderful vocalist and has been singing in the high school choir for many years. "Zubair is one of the kindest students I have had the pleasure of working with," said Victoria Garbarino, the high school's choral director. "He has taught both the chamber choir and myself so many things about his culture and his culture's music. I am not only proud to know him, but I am proud to be his teacher."
President of the English Honor Society and vice president of the Latin Club, Mr. Ali is also a member of the National Honor Society, Science Honor Society, Social Studies Honor Society and Tri-M Music Honor Society. The teenager performs with the high school's drama club, chamber choir and a capella choir.
Mr. Ali is another senior who is "all in" for Huntington. "The district is a special place to me," he said. "It's allowed to me to explore different opportunities and research, make new friends and become a better person. It's changed my life for the better."