July 15, 2019
A new orchestra teacher is coming to Huntington High School in September. James DiMeglio has been appointed by the Huntington School Board. He will be taking over the orchestra from veteran Nicole Castaldo, who will become the district's sixth grade orchestra teacher/director.
"Our department is excited to welcome James to the music faculty," said Eric Reynolds, department director of fine and performing arts. "He brings a wealth of experience ranging from touring around the world with his students to partnering with Carnegie Hall to creating and instructing music history courses."
Mr. DiMeglio obtained of Bachelor of Arts degree in music at Stony Brook University in 2009. He earned a Master of Arts in music education at Columbia University in 2011. He has been working as an orchestra teacher at Maspeth High School in Queens since September 2012, where he created the orchestral studies program when the school opened."
Mr. DiMeglio has served as the orchestra chairman for New York City public school music honors festival since September 2015. He was a strings teacher at PS 108Q during the 2011/12 school year.
The district received 34 applications for the strings teacher opening, which was created with the retirement of longtime educator Claude Masear. District officials pre-screened 20 applicants and then a committee interviewed 11 candidates prior Superintendent James W. Polansky recommending that the Huntington School appoint Mr. DiMeglio to the faculty.
Nicole Castaldo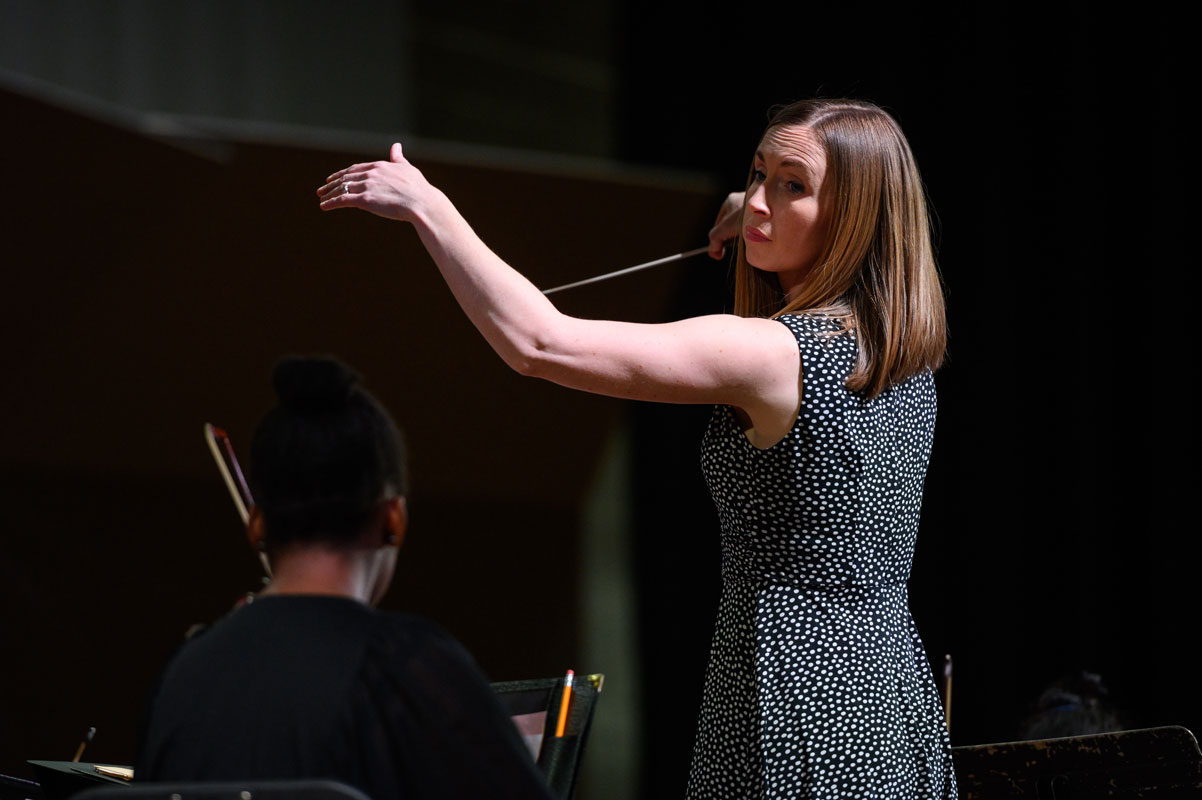 Veteran Huntington music teacher Nicole Castaldo is set to direct the district's sixth grade orchestra in 2019-20. (Darin Reed photo.)
Nicole Castaldo has been a Huntington UFSD music teacher since September 2014. A Smithtown High School graduate, she obtained undergraduate and graduate degrees at Lehigh University in international relations and economic and a master's degree at Long Island University in music education. She has served as director of the high school's string, symphony and chamber orchestras.
Ms. Castaldo will be working with sixth grade strings students at both Woodhull Intermediate School and Jack Abrams STEM Magnet School. She will direct the district's sixth grade orchestra.
"Nicole has completed a tremendous tenure as high school orchestra director and will serve our intermediate string students very well starting next year," Mr. Reynolds said. "Her calm demeanor, ability to collaborate with colleagues and knowledge of intermediate string pedagogy will help our students make the transition from sixth grade to the middle school."