December 6, 2018
Washington Primary School students participated in an Hour of Code during Computer Science Education Week, which runs through December 11. The youngsters had a ball while learning more about computer coding.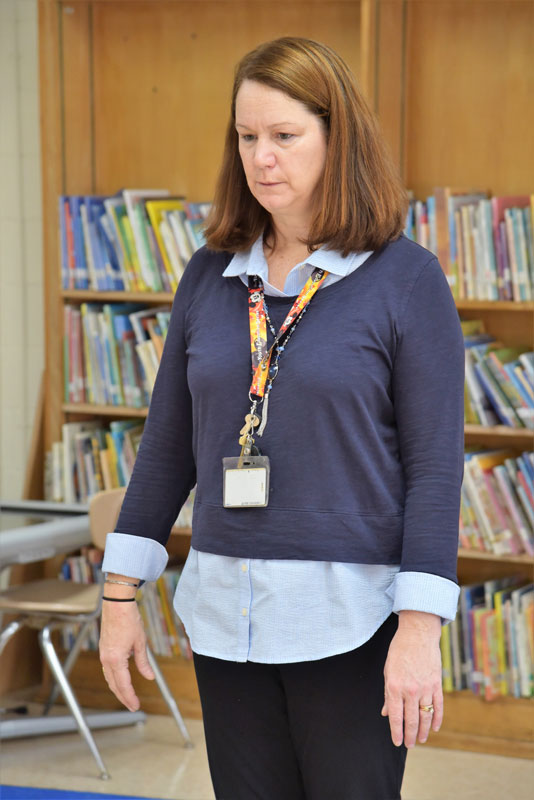 Washington School math teacher Christine Lofaro.
Washington students worked with math teacher Christine Lofaro and teacher assistant Angela Sementilli during their technology period in the library. The youngsters participated in two coding stations: "Hopscotch Coding" and a grade appropriate coding program from Hour of Code (ex. Kodables and Angry Birds).
"The Hour of Code started as a one-hour introduction to computer science, designed to demystify 'code,' to show that anybody can learn the basics and to broaden participation in the field of computer science," according to the Hour of Code website. "It has since become a worldwide effort to celebrate computer science, starting with one-hour coding activities, but expanding to all sorts of community efforts."
Washington's students really enjoyed the lessons. "Hopscotch coding is designed to have the students use body movements to travel through a coding sequence," Mrs. Lofaro.
Students "hopped" through a coding path that included various commands, conditions and loops. For example, one of the coding paths included the following sequence: start, forward, clap, forward, hands up (repeat four times), cross arms, forward, stomp, forward, tough shoulders (repeat six times), forward, pat knees (repeat two times), stop.
"The students who went through the hopscotch coding sequence had a terrific time practicing coding while engaging in fun physical movements," Mrs. Lofaro said.
After completing the hopscotch coding station, students moved to Chromebooks spread across library tables and logged onto either Kodables or Angry Birds.
"Kodables, is computer program that is appropriate for pre-kindergarten through second grade," Mrs. Lofaro said. "Kodables guides the students through the code sequence first. Students then click and drag the correct arrows to form a sequence. Angry Birds is a computer program where students use Blockly software to form code by dragging and dropping coding blocks from the tool box to the work space. Independence in coding occurs as students become more comfortable with the program."
Letters containing a variety of coding websites were sent home with students for their parents to peruse. Hopefully, many youngsters will continue their studies during off-school hours.
"We live in a world surrounded by technology and we know that whatever field our students choose to go into as adults, their ability to succeed will increasingly depend on understanding how technology works," Mrs. Lofaro said. "More than 100 million students worldwide have already tried coding through an Hour of Code. Students can log onto an Hour of Code at home to continue coding."